Twikey News - March 2018
With this first Twikey newsletter of the year we want to inform you about a series of new developments on our platform. The number of clients wanting to work cross-border is growing strongly. Among others, we recently activated Hans Anders and Ekomenu on Twikey.
We see an increasing need for smarter, more cost-effective and customer-friendly conclusions of SEPA Mandates and continue to work on the optimization of our platform. Among others, we developed a dashboard and activated the Febelfin Bank Switching Service. This allows us to provide you with up-to-date information when an end customer switches banks.
In short, we have started the year beautifully and hope the same for you!

Twikey is ISO27001 certified
After an audit by Kiwa, Twikey became the proud owner of the ISO27001 certificate on February 1st, 2018.
This certificate proves that our information security management system and its application meet the high ISO safety standards. As we observe these security measures with care, our users can rest assured that their business information is handled confidentially, our developments are done according to the rules of art and our IT infrastructure is managed safely.
New Twikey functionality: Dashboard
We continue to add new functionalities to our application on a weekly basis. These additions are based on the feedback of our customers. The umbrella dashboard that we implemented is a good example of this. It provides our customers with a continuous overview of the most important parameters. This way they can immediately view how many new customers have been added or how effective recurring payments are.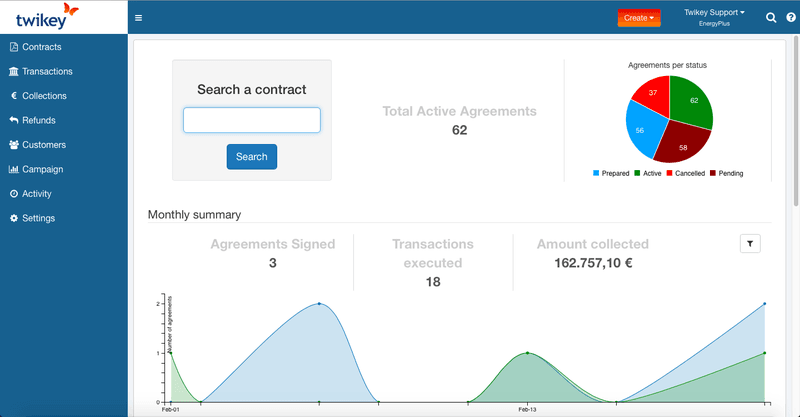 Always up-to-date with the bank switching service
Since 1 February 2018, Bankswitching, the bank switching service of Febelfin, makes it possible to automatically notify the creditor when a customer switches banks.
In collaboration with Febelfin, Twikey has set up a service to automate this bank switching service. Via API or mail our customers receive the necessary information when an end customer switches from one bank to another. All info in Twikey is automatically kept up-to-date and collections thus continue to work.

onFact – Twikey linking
Twikey is now also implemented in the invoicing software of onFact. onFact is a billing program in the cloud that can be expanded with free apps, according to your needs.
Through the link with Twikey, onFact users can have their customers sign an agreement online. This allows them to automatically collect their invoices (both one-time and recurrent ones). Time-saving, secure, less administrative hassle, ... In short, only advantages!

Want to know more? Contact us.
Do you want to stay on top of all the Twikey news? Subscribe to our newsletter.