Twikey News - December 2018
2018 was again a fantastic year. From the market, we received the confirmation that we are the absolute market leader in Europe for B2B Sepa mandates. Our team also succeeded again in expanding our offer in continuous dialogue with our business partners. We offer our customers even more functionalities such as alternative payment methods, the signing of contracts and additional identification options such as Itsme. Major investments were also made in the integration with partners, which makes the Twikey platform more powerful than ever. For the year to come, the challenges are already there with the introduction of the PSD2, but more about that in our next newsletters.
For now, we wish you a Merry Christmas, and a good start into the new year!
The entire Twikey team

Sustainable school transportation, with Twikey as partner
The Studio – the innovation lab of Belfius - and Flow Pilots, with the help of Twikey, developed a mobility platform on which pupils can save digital coins by going to school by bike. We are proud to support such a sustainable and healthy initiative by taking care of the payments.
Click here to read more about the conversion of a digital currency into real euros.
Immediately receive a first payment in combination with a signed mandate
It has recently become possible to sign a Sepa mandate online and to make a first payment via Twikey in one single operation. This way, we make online payments via a Sepa mandate more user-friendly for the end customer and your first payment is guaranteed. This, for example, can be very useful for e-commerce companies that wish to be paid immediately so that their customer can use their services directly and facilitates future orders thanks to the Sepa direct debit mandate. It also helps you keep your payment costs under control.

Twikey & Teamleader joined forces to simplify your invoice management
The integration with our friends from Teamleader makes it possible to manage the payment of invoices from Teamleader via Twikey. The link between our two tools offers many possibilities that make your administration a lot easier. Your payment process, from the invoice to the payment follow-up can be handled fully automatically. A match made in heaven! Result: not a single manual intervention is required to pay an invoice.
Come and visit us at the Webwinkel Vakdagen
As usual, Twikey will again be present in 2019 at the Webwinkel Vakdagen, the most important e-commerce event of the Benelux. You can find us at stand 105.

Twikey team
Our team in the Netherlands also keeps on growing. Michael Van Leeuwen recently joined the team to help and assist our new customers.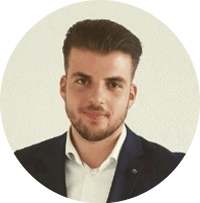 And we are still looking for new talent to strengthen our team.
Want to know more? Contact us.
Do you want to stay on top of all the Twikey news? Subscribe to our newsletter.